NEW YORK – Winter storm warnings and plummeting temperatures put a chill on New Year's Eve plans for hundreds of thousands of revelers. Thousands of homes and businesses in the Midwest had no electric lights for the holiday because of wind damage. Temperatures in the teens — with wind chills below zero — were forecast for midnight and the annual ball drop in New York's Times Square and for the First Night celebration in Boston, where up to 11 inches of snow was forecast with wind gusting to 45 mph.
However, that was almost mild compared to the upper Midwest, which started the day with temperatures as low as 33 below zero at Wahpeton, N.D., and 24 below at Brainerd, Minn.
Up to a million revelers, jammed tightly together by intense security, were expected to hunker down against the icy wind in Times Square to watch a five-minute blizzard of balloons and more than a ton of confetti.
But the weather put a crimp in the festivities for some. New Bedford, Mass., put its fireworks display off until Jan. 8 because of the wind, but said other New Year's Eve activities would go on as planned.
The National Weather Service posted winter storm warnings and advisories for parts of New England, upstate New York, northern Ohio, northern Minnesota and North Dakota, and sections of Montana, Idaho, Oregon and Washington.
In western New York state, at least 8 inches of snow had fallen by midday in the Buffalo and Rochester areas, and morning rush hour traffic crept at a near standstill on the New York State Thruway south of Albany.
"It's really affecting the entire state," said weather service meteorologist Dave Zaff in Buffalo.
Single-digit temperatures and sustained wind of up to 20 mph were expected to combine to produce wind chills as low as 25 below zero during the night in parts of New York state, meteorologists said.
More snow fell Wednesday in parts of Michigan as utility crews endured morning temperatures in the teens to restore power to customers still without service since a weekend wind storm knocked down trees and power lines. The state's major utilities said about 13,200 homes and businesses were still blacked out Wednesday.
In the Ohio Valley, Duke Energy said nearly 11,700 homes and business were blacked out by wind damage during the night in southwest Ohio and northern Kentucky, but most were back on line Wednesday morning.
Up to 5 inches of snow was likely Wednesday in northern sections of North Dakota and Minnesota, on top of the foot or more that fell Tuesday, the weather service said.
December was already a record month for snow in North Dakota, with 33.3 inches at Bismarck. In Minnesota, Tuesday was the 16th day in December in which measurable snow had fallen at the Minneapolis-St. Paul International Airport.
Juanita Grosz didn't even bother to measure the snow at her home in Garrison, N.D., northwest of Bismarck.
"It doesn't matter — I just know that it's a lot," Grosz said Tuesday. "Everything is solid white; there isn't a track anywhere."
MIAMI, Florida – A NASA report on the last minutes of Space Shuttle Columbia cited problems with the crew's helmets, spacesuits and restraints, which resulted in "lethal trauma" to the seven astronauts aboard.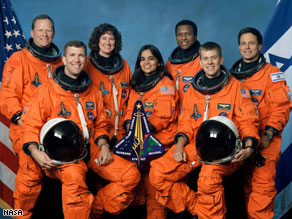 But the report also acknowledged that "the breakup of the crew module … was not survivable by any currently existing capability."
The spacecraft broke up while re-entering Earth's atmosphere near the end of its mission on February 1, 2003.
The NASA report found the astronauts knew for about 40 seconds that they did not have control of the shuttle before they likely were knocked unconscious as Columbia broke apart around them.

Watch more details from the report »
The report also found that while crew members were wearing their pressurized suits, one astronaut did not have on a helmet, three were not wearing gloves and none lowered the visors before the module lost cabin pressure. One astronaut also was not seated.
"In this accident, none of those actions would have ultimately made any difference," said former shuttle program manager Wayne Hale, now a deputy NASA administrator.
The graphic, 400-page investigative report relied on video, recovered debris and medical findings, supplemented with computer modeling and analyses. It also includes many recommendations to make space travel safer for future astronauts.
A shuttle-program source told CNN the families of the astronauts who died were brought in specifically to look at the report and even in some cases to help with its preparation. The report took more than five years to complete.
"The members of this team have done an outstanding job under difficult and personal circumstances," said Johnson Space Center director Michael L. Coats. "Their work will ensure that the legacy of Columbia and her heroic crew continues to be the improved safety of future human spaceflights worldwide."
Columbia broke apart some 200,000 feet over Texas — just minutes before it was to have touched down in Florida. The shuttle's wing was damaged on takeoff when a large piece of heat-reflecting foam ripped off and gouged a hole in it.
During re-entry, the hole allowed atmospheric gases to burn the wing and destroy the spacecraft. The oldest orbiter in the fleet, Columbia had just completed a 16-day science mission.

Watch the view from the command deck as the shuttle enters the atmosphere »
Killed were commander Rick Husband, pilot Willie McCool, payload commander Michael Anderson and mission specialists David Brown, Kalpana Chawla, Laurel Clark and Ilan Ramon, an Israeli Air Force colonel who was Israel's first astronaut.
By request of the families of the Columbia astronauts, NASA released the report between Christmas and New Year's so that the astronauts' children would be at home where they could discuss the findings with their families in private, said former shuttle commander Pam Melroy, deputy project manager for the investigation team.
"It was a way for us to work through our grief about the accident," said Melroy about compiling the report. "This was one of the hardest things I've ever done."
The report stated that "after the crew lost consciousness due to the loss of cabin pressure, the seat inertial reel mechanisms on the crews' shoulder harnesses did not lock.
"As a result, the unconscious or deceased crew was exposed to cyclical rotational motion while restrained only at the lower body. Crew helmets do not conform to the head. Consequently, lethal trauma occurred to the unconscious or deceased crew due to the lack of upper body support and restraint."
Another section of the report focused on the pressure suits used by the space shuttle crew on launch and re-entry. It said the suits were not part of the initial design of the orbiter and that depressurization "occurred so rapidly that the crew members were incapacitated within seconds, before they could configure the suit for full protection from loss of cabin pressure."
Melroy said investigators took some comfort in data that suggests the Columbia crew died abruptly and without suffering.
"Of course, we were relieved," she told reporters during a NASA conference call Tuesday afternoon. "It is a very small blessing, but we'll take them where we can find them."
The NASA team's report evaluated every aspect of the crew cabin infrastructure, including the design of the safety belts and helmets worn by the crew. The report also included recommendations to improve spacecraft design and crew safety.
Those recommendations cover a broad range of subjects from crew training, procedures, restraints and individual safety equipment to spacecraft design methods and recommendations regarding future accident investigations.
"By learning these lessons and ensuring that we continue the journey begun by the crews of Apollo 1, Challenger, and Columbia, we help to give meaning to their sacrifice and the sacrifice of their families," the report stated. "It is for them, and for the future generations of explorers, that we strive to be better and go farther.
The report will have little if no effect on the nine remaining space shuttle flights to come. NASA is mothballing the shuttle program in 2010 as it begins a new program, Constellation, designed to send astronauts back to the moon.
There is expected to be about a five-year hiatus in manned U.S. space flight as NASA transitions to the new program, which it hopes will
(CNN) — American military deaths in Iraq have dropped dramatically this year, a trend observers attribute to the lasting effects of the U.S.-led surge offensive, more robust Iraqi security performance and civilians' disgust with warfare.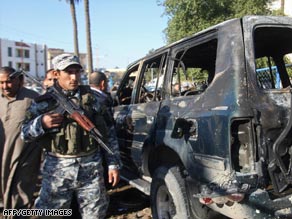 A CNN count of Pentagon figures shows that 309 U.S. service members in Iraq have died this year: 222 in hostilities such as combat and attacks, and 87 in non-hostile circumstances such as traffic accidents, suicides and natural deaths.
The U.S. death toll has been much higher in past years. Last year, 906 died: 768 in combat and attacks and 138 in non-hostile circumstances. There were more than 800 deaths in 2004, 2005 and 2006 as well.
"It's no single effort. It's a combination of efforts," said Maj. Gen. Jeffery Hammond, commanding general of Multi-National Division-Baghdad. "The people of Iraq are tired of violence, and they are assisting the security forces; the government is improving its ability to govern and to apply the rule of law."
The decline in deaths coincides with a decrease in attacks. Maj. Gen. David Perkins said that last year, Iraq experienced nearly 180 attacks a day and that last week, the number dropped to an average of 10 a day.
Gen. Thomas Metz, head of a military group dedicated to defending against roadside bombs, said this month that there had been a recent decline in the number of particularly powerful roadside bombs coming into Iraq from Iran. The bombs, called explosively formed penetrators, have been blamed for numerous U.S. troop deaths.
The improvement comes as the United States prepares to withdraw its combat troops from population centers in 2009 from all of Iraq by the end of 2011.
Commanders and others say the successes of the U.S.-led surge in establishing stability last year and this year in Baghdad and nearby towns and villages have decimated militant leadership and operatives, leading to a decline in attacks.
"The Iraqi security forces have increased their capability in the last 13 months here in Baghdad," Hammond said. "The coalition forces and the Iraqi forces, in a combined effort, have pressed the insurgents and al Qaeda; more than 3,300 of them have been detained in the past year."
Michael O'Hanlon, senior fellow in foreign policy at the Brookings Institution, said the military is much better at thwarting roadside bombs, has developed a better informant network and has been dismantling the al Qaeda in Iraq movement.
Maj. Brian Tribus, chief of media relations for Multi-National Corps-Iraq, emphasized the improved security performance and growth of Iraqi forces.
U.S. deaths have dropped in part because Iraqi troops are taking more responsibility for fighting, he said. Iraqi troops often take the lead in security patrols, as 13 of 18 provinces now are under Iraqi security control.
Tribus said that more than three times as many Iraqi security forces as coalition forces were killed or wounded from June to November. In the same period last year, they sustained 1.3 times as many casualties.
Government offensives against Shiite militants in Basra, Amara and Baghdad's Sadr City and against al Qaeda in Iraq in the Mosul region illustrate Iraqi competency and resolve, Tribus said. Those operations also helped security forces develop their skills, he added.
Another possible reason for the improved security has been the growth of the "Awakening" movement, in which Sunni tribes decided to take a stand against al Qaeda in Iraq in Anbar province.
This movement's ideals spread to other regions, and from it, a U.S.- and Iraqi-backed program called the Sons of Iraq emerged. The largely Sunni militias, which include some former insurgents, have assisted in security duties.
Sunnis once played a dominant role in the insurgency. Sunnis, who had more clout under Saddam Hussein's rule, are embracing the new governmental system.
"The Sons of Iraq represent one of the many success stories in Iraqi neighborhoods and communities," said Sgt. Brooke Murphy, a Multi-National Forces-Iraq spokeswoman. "This organization began as simple groups of concerned local citizens striving to reclaim their neighborhoods from terrorists and criminals."
She said "the importance of their contribution" can be gauged by efforts of the Iraqi government and U.S. military to register members into Iraqi security forces and non-security related jobs.
Tribus said the focus on advising and partnering Iraqi security forces will contribute to lower U.S. and coalition deaths.
"We expect the trend will continue downward as the [Iraqi security forces] take more of the lead," he said.
NEW YORK (CNN) — MeLisa Cleary was 30 years old and a mother of three when her marriage started to fall apart.
She was in the process of separating from her husband, Daniel, when she was last seen on June 6, 2008.
Her body was found three days later near the railroad tracks in Hartsburg, Illinois, a town more than 20 miles away from Mackinaw, where the Clearys lived.
Police said her body showed significant signs of blunt force trauma, particularly to her head and neck. The Logan County Coroner ruled her death a homicide.
According to friends and family, Cleary had expressed fear for her life to both her sister Brandy Gerard and her close friend Nicole Simpson.
She had been sleeping on the couch at home during the week and spending weekends at Simpson's house. She was scraping by on money she made taking care of other people's children.
Cleary was due at Simpson's house by 5:30 p.m. on Friday, June 6, but never arrived. She had spent the previous night there as well to avoid another quarrel with her husband.
When Cleary didn't arrive, Simpson called her family. On the morning of June 7, police were called and Cleary was reported missing.
Within hours of reporting her missing, Cleary's family found her 2004 Ford Expedition abandoned less than two miles from her home. Her keys and her purse were left inside the car.
Cleary's body was discovered June 9 by Canadian National Railway workers. That same day, Daniel Cleary was seen leaving the couple's home with their three children. The car was loaded with packed luggage.
Police issued an Amber Alert for the children, calling it a possible parental abduction.
Cleary, his mother and the children were found June 10 at a motel in Peoria, Illinois. He was taken into custody, questioned and released. The children were placed in protective custody.
Dan Cleary's lawyer, Jerry Serritella, had no comment.
The investigation remains open, but police still have not announced any suspects in the case, nor have they made any arrests. They are continuing to work on it "nonstop," said Capt. Bob Henderson of the Tazewell County Sheriff's department.
"I've got guys working on it right now," Henderson said. "Actually, we're working on it through the Christmas holidays."
Because the case remains open and active, Henderson said he was reluctant to provide more than the basic details.
On November 15, family and friends celebrated what would have been MeLisa Cleary's 31st birthday, holding a candlelight vigil.
Her sister, Brandy Gerard, says she feels her sister's presence. "It's like she's saying to me, don't quit. Keep fighting for justice."
Cleary's family to this day insists that Cleary would never leave her children home alone, and she wouldn't go anywhere without telling someone she knew and trusted. Family members won't say more because they don't want to jeopardize the investigation.
The children, a girl, 12; a boy, 9; and another girl, 3, are in the custody of the state's Department of Children and Family Services, Henderson said. He would not discuss the situation in detail.
Cleary's mother, Jean Cohoon, says it's difficult when she visits with her grandchildren, "How can you answer a 3-year-old's questions about when her mommy and daddy are coming back," Cohoon says.
"If anybody has any pertinent information involving the disappearance and death of MeLisa, by all means give us a call," Henderson said.
The Tazewell County Sheriff's Office can be reached at 309-346-4141. The Logan County Sheriff's Office can be reached at 217-732-2156
Source: CNN/Crime
A security guard shot his estranged wife's boyfriend in the stomach in the parking lot of a shopping plaza in suburban West Palm Beach tonight, according to the Palm Beach County Sheriff's Office.
The security guard, whose name has not been released, was in uniform and in the parking lot of the Polo Grounds Shopping Plaza, which contains a Publix supermarket, near the intersection of Military Trail and Summit Boulevard around 8:30 p.m., according to a sheriff's report. He was not working security at that plaza however.
The guard got into an argument with the boyfriend, according to a sheriff's report. The guard, separated from his wife, shot the boyfriend in the stomach several times, according to the report.
A Florida Highway Patrol trooper, who was in the plaza, was nearby and arrested the guard. Sheriff's deputies have taken him into custody while they investigate.
The boyfriend, described a being in his 30s, was flown by helicopter to Delray Medical Center in serious condition.
WEST PALM BEACH — Some city employees spent hours on porn sites, while others e-mailed ethnic jokes or racist photos. For others, the offense was forwarding religious inspirational e-mails to colleagues.
For the city, it added up to one thing: misusing government equipment on idle or offensive pursuits.
Employment records provided by the city Tuesday show that its ongoing inquiry into computer misuse, which began six months ago, has led to four firings, nine resignations, one suspension and three reprimands. All the employees recently received training in respecting co-workers and most also attended sessions in e-mail liability and workplace harassment, city spokesman Peter Robbins said.
Two of those reprimanded work in human resources, the department conducting the investigation.
Two of those fired, Larry Brown, a public utilities operations coordinator, and Kendrick Crawford, a public works code enforcement officer, were investigated for misuse of city vehicles and that led to discovery of offensive e-mails, according to investigators.
Brown used a city car for a romantic interlude with another employee, Patrice Robinson, investigators alleged. Brown was fired; Robinson quit.
Crawford used his city car for a lunch break outside the city limits, "for sexual interaction," according to investigators. Further investigation showed improper Internet use, his personnel file stated.
Steven Strong, a wastewater plant operator, was fired Dec. 17 after the city cited him with "gross misconduct" and "excessive loss of normal working hours." His termination letter said that from June through early November, he spent more than 20 hours on the Internet, including 64,853 hits on Web sites. Printouts in his personnel file show that much of it was porn.
Patricia Daniels, a secretary, was fired Nov. 6 for sending office e-mails that included racial and ethnic jokes.
The punishments were determined by the nature of the offense and were not related to city budget restraints, officials said.
Darlene Snowball, a purchasing agent, for example, allegedly had used her city computer to send religious materials; she was reprimanded. Melva Brewster, a parks and recreation secretary, spent an "enormous" number of hours on the Internet, an investigator alleged; she got a three-day suspension in November.
Some of the employees who were fired or resigned are taking legal action, through union representation or lawyers. Diane Phillips, who resigned rather than be fired, said she has requested powerhouse Stuart lawyer Willie Gary to represent her; she hasn't heard back. Another lawyer said he didn't think he could help, she said.
Phillips conceded that she'd sent a couple of e-mails with religious jokes "to the same two people I've always sent e-mails to, but nothing anyone got insulted over." The city overreacted and treated employees unevenly, she said.
"I have received nothing but excellent reviews in the 19 years I was employed with the city and I made a stupid mistake, but it appears they chose who they wanted to keep on and who they didn't," she said.